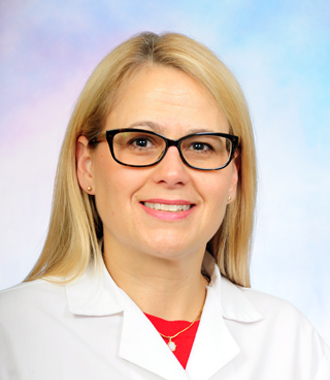 Assistant Professor
Shelly Seward, M.D.
Awards and Honors
2009 Fromm Research Award - 2nd Place
2008 Resident Research Award - 1st Place
Residency
 Obstetrics and Gynecology, The Ohio State University, Columbus, OH
Fellowships
 Gynecologic Oncology, Wayne State Unviersity, Detroit, MI
Professional Experience
Professional Memberships/Associations
American College of Obstetrics and Gynecology
Society of Gynecologic Oncology
American Society of Clinical Oncology
Research Interests
Clinical Interests
Publications
Authors: Seward S, Ali-Fehmi R, Munkarah AR, Semaan A, Al-Wahab ZR, Elshaikh MA, Cote ML, Morris RT, Bandyopadhyay S. Outcomes of patients with uterine serous carcinoma using the revised FIGO staging system. Int J Gynecol Cancer. 2012 Mar;22(3):452-6.
Authors: Vay A, Kumar S, Seward S, Semaan A, Schiffer CA, Munkarah AR, Morris RT. Therapy-related myeloid leukemia after treatment for epithelial ovarian carcinoma: an epidemiological analysis. Gynecol Oncol. 2011 Dec;123(3):456-60. Epub 2011 Aug 19.
Authors: Semaan A, Qazi AM, Seward S, Chamala S, Bryant CS, Kumar S, Morris R, Steffes CP, Bouwman DL, Munkarah AR, Weaver DW, Gruber SA, Batchu RB. MicroRNA-101 inhibits growth of epithelial ovarian cancer by relieving chromatin-mediated transcriptional repression of p21(waf¹/cip¹). Pharm Res. 2011 Dec;28(12):3079-90. Epub 2011 Aug 5.
Authors: Mahdi H, Kumar S, Seward S, Semaan A, Batchu R, Lockhart D, Tamimi H, Munkarah AR. Prognostic impact of laterality in malignant ovarian germ cell tumors. Int J Gynecol Cancer. 2011 Feb;21(2):257-62.
Authors: Mahdi H, Thrall M, Kumar S, Hanna R, Seward S, Lockhart D, Morris RT, Swensen R, Munkarah AR. The prognostic impact of the ratio of positive lymph nodes on survival of epithelial ovarian cancer patients. J Surg Oncol. 2011 Jun 1;103(7):724-9. doi: 10.1002/jso.21869. Epub 2011 Jan 16.
Other Information
Board Certifications
American Board of Obstetrics and Gynecology