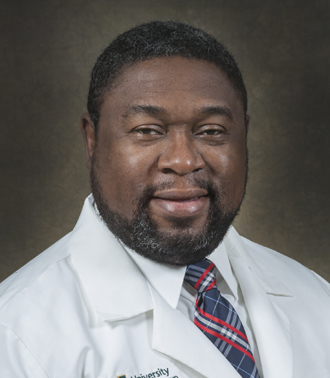 Associate Professor
Jimmy Belotte, M.D.,Ph.D., F.A.C.O.G.
Academic Rank
Associate Professor, Clinical Educator (full time)
Office Address
Wayne State University School of Medicine
Division of Gynecology
Hutzel Women's Hospital 3990 John R., 7-Brush
North Detroit, Michigan 48201
Biography
Dr. Jimmy Belotte is a board-certified Obstetrician and Gynecologist, and an Associate Professor in the Department of Obstetrics and Gynecology (ObGyn) at Wayne State University School of Medicine (WSU SOM).

He was born and raised in Port-au-Prince, Haiti where he obtained his Medical Degree at the Université Notre Dame d'Haiti in October 2004. In 2007, He started his residency training in Obstetrics and Gynecology at Nassau University Medical Center in Long Island New York, then transferred to Wayne State University in January 2010. As a third year resident, he had the opportunity to rotate at Memorial Sloan-Kettering Cancer Center in Manhattan New York, and MD Anderson Cancer Center in Houston Texas where he was awarded the Felix-Rutledge Fellow certificate.

At Wayne State University, he successfully completed his Obstetrics and Gynecology residency training in June 2011. Then, he was awarded the prestigious Women Reproductive Health Research (WRHR) NIH scholar, and joined the Obstetrics and Gynecology faculty as an Assistant professor. During his WRHR tenure, he enrolled in a PhD in reproductive physiology at WSU SOM. In September 14, 2016, he successfully completed both the PhD and the WRHR scholar programs.
Patient Care

Dr. Belotte provides general ObGyn and high-risk gynecology care at the Karmanos Cancer Center (KCC), University Health Center (UHC), and Harper and Hutzel University Hospitals (HUH). He also provides his services at various Wayne State University Physician Group (WSUPG) sites. He primarily focuses on minimally-invasive gynecologic surgery (MIGS), including the daVinci surgical platform and cancer screening and prevention. Dr. Belotte prioritizes high-quality, safe, cost-effective and comprehensive care across the board as reflected on his clinical productivity and his public records as a practitioner.
Teaching
In his role as a faculty member, Dr. Belotte is involved in the teaching and supervision of medical students, residents and fellows. His teaching style is diverse, interactive, non-threatening, evidence-based and inclusive.
Research
Dr. Belotte research' interests focus on gynecologic cancers. Specifically, he has studied the role of oxidative stress in ovarian cancer, cisplatin resistance, ovarian cancer stem cells to name a few. Other interests include: MIGS, menstrual disorders, pelvic pain, precancerous lesions, cancer screening and prevention, immunization, cancer health disparities, menopause and other climacteric states.
Service
He is very active in the community giving talks raising awareness about female cancers, identifying screening and prevention opportunities to the underserved and immigrant populations in an effort to promote health and decrease cancer health disparities. Dr. Belotte is also involved in global health with trips to Haiti as a medical missionary and visiting professor. He is an ad hoc reviewer for international and national journals in Obstetrics and Gynecology and primary care.
 
Publications