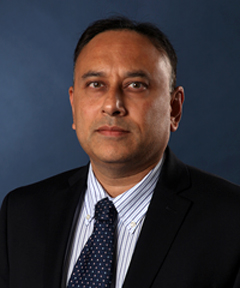 Assistant Professor
Sanjay Patwardhan, M.D.
Academic Rank
Assistant Professor, Clinical Educator (full time)
Biography
Sanjay C Patwardhan, M.D. joined the Maternal Fetal Medicine faculty in 2016 and is an Assistant Professor. Dr. Patwardhan currently sees High risk obstetrics patients in office and inpatient. He is also actively involved in resident, fellow and medical student education, mentoring, and recruiting. Dr. Patwardhan's clinical and research interests include the screening and treatment of preeclampsia, 3D/4D fetal ultrasound imaging, preterm labor and cervical insufficiency.
Awards and Honors
2013 - present Reviewer, Obstetrics and Gynecology
2011 - Member of Review Board, Indian Journal of Medical Research
2008-2010 - Honorary Clinical Lecturer, University of Birmingham, United Kingdom
2008 - Inclusion on Specialist Register of OBGYN physicians, United Kingdom
2007 - Resident coordinator – Birmingham Women's Hospital, United Kingdom
2002 - Best House Surgeon Staff – Royal London Hospital and NHS Trust
1999 - MD with honors – University of Mumbai
Education
7/01/2013 – 7/10/2016 Maternal-Fetal Medicine Fellowship, Department of Obstetrics and Gynecology, Medical University of South Carolina
6/22/2009 – 6/30/2013 Internship and Residency, Department of Obstetrics and Gynecology, Crozer Chester Medical Center, Upland, Pennsylvania
March 2005 Member of Royal College of Obstetricians and Gynecologists (MRCOG) Royal College of Obstetrics and Gynecology, London, United Kingdom
6/1996 – 6/1999 Doctor of Medicine (M.D. with Honors), Obstetrics and Gynecology, Lokmanya Tilak Medical College, University of Mumbai, India
January 1996 Bachelor of Medicine and Bachelor of Surgery (M.B.B.S), Grant Medical College, University of Mumbai, India
Research Interests
Early onset severe preeclampsia
Screening for preeclampsia
Preterm labor and cervical insufficiency
3D/4D fetal ultrasound imaging
Publications
Peer-Review Publications:

Gray J, Patwardhan SC, Martin W. Meticillin-resistant Staphylococcus aureus screening in obstetrics: A review. J Hosp Infect. 2010 Jun;75(2):89-92. PMID: 20381905.
Nawathe A, Patwardhan S, Yates D, Harrison GR, Khan KS. Systematic review of the effects of aromatase inhibitors on pain associated with endometriosis. BJOG. 2008 Jun;115(7):818-22. Review. Erratum in BJOG. 2008 Jul;115(8):1069. PMID: 18485158
Aslam N, Harrison G, Khan K, Patwardhan S. Visceral hyperalgesia in chronic pelvic pain. BJOB 2009 Nov;116(2):1551-5. PMID: 19681848
Patwardhan S, Arunkalaivanan AS. Urogynaecology: An ambulatory approach. Br J Hosp Med (Lond). 2007 Aug;68(8):414-7. PMID: 17847683
Dadi H, Patwardhan SC, Ikomi A, Ojutiju D. Self-induction of labor using misoprostol: an unusual case of uterine hyperstimulation. BJOG. 2004; 111(9):1018-9. PMID: 15327621
Sivarajan S, Roy M, Patwardhan S, Steele J, Sanghi A. A primitive neuroectodermal tumour of retroperitoneum treated with chemotherapy in pregnancy: case report and review of literature. J Obstet Gynaecol. 2004 Aug;24(5): 598-9. PMID: 15369961
 
Other Publications:
Janmohamed F, Halpin L, Patwardhan S. Clinical audit made easy. Student BMJ 2006; 14:20-2.
Halpin L, Janmohamed F, Patwardhan S. Things you should really know - Bird Flu (2006). Student BMJ 2006;14:133–76.
Other Information
 Membership in Professional Societies:
Fellow- American Congress of Obstetricians and Gynecologist
Associate Member – Society for Maternal and Fetal Medicine
Member – Royal College of Obstetricians and Gynaecologists, UK
General Medical Council, UK