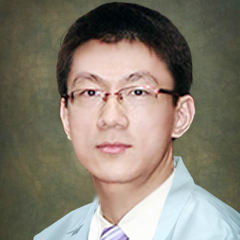 Associate Professor with Tenure
313-578-4339
Kang Chen
Academic Rank
Associate Professor with Tenure
Office Address
421 E. Canfield Street, Detroit, MI 48201
Fax
313-578-4659
Biography
Dr. Chen studied in the National University of Singapore on a Singapore government scholarship. He initially majored in Computer Science and later graduated with First-Class Honors degree in biochemistry, studying tumor immunology and microbial pathogenesis. He did graduate research in immunology and microbial pathogenesis at Weill Cornell Medicine and Memorial Sloan-Kettering Cancer Center and postdoctoral research at Weill Cornell Medicine and Icahn School of Medicine at Mount Sinai. While in New York, he also worked with the United Nations Human Settlements Programme (UN-HABITAT) on initiatives of sustainable urbanization and public health and organized regular seminars to host world-renowned political, economic and scientific leaders in the UN Headquarters. He has been a member of the NIH/NIAID Mucosal Immunology Studies Team, the tumor biology and microenvironment program at Barbara Ann Karmanos Cancer Institute and the UN Committee on Human Settlements in consultative relationship with the UN Economic and Social Council (ECOSOC).
He has received many awards and authored many articles in top sciencitific journals. Currently, he is a Burroughs Wellcome Fund investigator in preterm birth, reviews manuscripts and grants for leading journals and funding agencies in the US, Europe and Asia, and co-chairs the Immunology Focus Group of Wayne State University, Barbara Ann Karmanos Cancer Institute and Henry Ford Health System.
Awards and Honors
At Wayne State University:
2017 | College Teaching Award, Wayne State University School of Medicine
2016 | Research Excellence Award, Wayne State University School of Medicine
2015 | Invited expert, Global Maternal Vaccination Landscape Consultative Meeting, Bill & Melinda Gates Foundation, Vancouver, Canada
2014-2019 | Burroughs Wellcome Fund Investigator in Preterm Birth
2013-2016 | National Institute of Allergy and Infectious Diseases (NIAID) Mucosal Immunology Studies Team (MIST) Young Investigator Award
2013 | American Association of Immunologists Early Career Faculty Travel Award
Education
B.Sc., National University of Singapore
B.Sc. with First Class Honours, National University of Singapore
Ph.D., Weill Cornell Medicine and Memorial Sloan-Kettering Cancer Center
Courses taught
MD2 Immunology, Microbiology and Infectious Diseases
IM7010/CB7010/IBS7090 Fundamentals of Immunology
MGG7091 Scientific Enquiries
MGG7400 Molecular Biology of Cell Signaling
IM8999 Master's Thesis Research and Direction
CB7700 Cancer Biology Journal Club
PSL7700 Stem Cell Biology
PSL7690 Principles of Reproductive Biology
CB7410/IM7410 Cancer Immunology and Immunotherapy (Course Director)
MD2 Immunology Case Study
HON4998 University Honors Thesis
BIO6999 Honors Program Terminal Essay
BIO6990 Directed Study in Biology
Research
My lab studies the pathogenic process of allergy, immunodeficiency, reproductive diseases, autoimmune disorders, and cancer. We also develop diagnostic, therapeutic and preventive strategies for these diseases. Our current work is focusing on infant allergy, respiratory infection, and preterm birth.
Research Interests
Mucosal Immunology
Reproductive immunology
Immunodeficiency, infection and inflammation
Cancer Immunology
Publications
Shan M, Carillo J, Yeste A, Gutzeit C, Garzon DS, Pybus M, Grasset EK, Yeiser JR, Matthews DB, van de Veen W, Comerma L, He B, Boonpiyathad T, Lee H, Blanco J, Osborne LC, Siracusa MC, Akdis M, Artis D, Mehandru S, Sampson HA, Berin MC, Chen K, Cerutti A (2018). Secreted IgD Amplifies Humoral T helper 2 responses by Activating Basophils through Galectin-9 and CD44. Immunity: in press.
Zhou JZ, Way SS, Chen K. Immunology of the uterine and vaginal mucosae. Trends in Immunology 2018;39:302-314.
Huang B, Faucette AN, Pawlitz MD, Pei B, Goyert JW, Zhou JZ, El-Hage NG, Cols M, Lin J, Yao F, Jassal JS, Dewar RS III, Dai J, Shen C, Polin LA, Nichols RA, Jones TB, Deng J, Bluth MH, Puder KS, Gonik B, Nayak NR, Puscheck E, Wei W-Z, Cerutti A, Colonna M, Chen K. Interleukin-33-induced expression of PIBF1 by decidual B cells protects against preterm labor. Nature Medicine 2017;23:128-35
Siriwardena S, Chen K, Bhagwat AS. Functions and malfunctions of mammalian DNA-cytosine deaminases. Chemical Reviews 2016;116:12688-12710.
Huang B, Yin M, Li X, Cao G, Qi J, Lou G, Sheng S, Kou J*, Chen K*, Yu B. Migration-Inducing Protein 7 promotes epithelial ovarian cancer tumorigenesis and angiogenesis and independently predicts poor prognosis. Oncotarget 2016;7:27552-66.
Faucette AN, Unger BL, Gonik B, Chen K Maternal vaccination: moving the science forward. Human Reproduction Update 2015;21:119-35.
Shan M, Gentile M, Yeiser JR, Walland AC, Bornstein VU, Chen K, He B, Cassis L, Bigas A, Cols M, Comera L, Huang B, Blander JM, Xiong H, Meyer L, Berin C, Augenlicht LH, Velcich A, Cerutti A. Mucus enhances gut homeostasis and oral tolerance by delivering immunoregulatory signals. Science 2013;342:447-453.
Hong P, Chen K, Huang B, Liu M, Li Z, Cui M, Chaqour B, Pan X, Barton ER, Jiang X-C, Siddiqui MAQ. HEXIM1 controls satellite cell expansion after injury to regulate skeletal muscle regeneration. Journal of Clinical Investigation 2012;122:3873-87.
Puga I, Cols M, Barra CM, He B, Cassis L, Gentile M, Comerma L, Chorny A, Shan M, Xu W, Magri G, Knowles DM, Tam W, Chiu A, Bussel JB, Serrano S, Lorente JA, Bellosillo B, Lloreta J, Juanpere N, Alameda F, Baró T, de Heredia CD, Torán N, Català A, Torrebadell M, Fortuny C, Cusí V, Carreras C, Diaz GA, Blander JM, Farber CM, Silvestri G, Cunningham-Rundles C, Calvillo M, Dufour C, Notarangelo LD, Lougaris V, Plebani A, Casanova JL, Ganal SC, Diefenbach A, Aróstegui JI, Juan M, Yagüe J, Mahlaoui N, Donadieu J, Chen K, Cerutti A. B cell-helper neutrophils stimulate immunoglobulin diversification and production in the marginal zone of the spleen. Nature Immunology 2012;13:170-80 (cover story).
Cerutti A, Chen K, Chorny A. Immunoglobulin responses at mucosal interfaces. Annual Review of Immunology 2011;29:273-93.
Chen K, Cerutti A. AIDing the pursuit of IgA diversity. Nature Immunology 12:197-198, 2011.
Ballon G, Chen K, Perez R, Tam W, Cesarman E. Kaposi Sarcoma Herpesvirus (KSHV) vFLIP oncoprotein induces B-cell transdifferentiation and tumorigenesis in mice. Journal of Clinical Investigation 121:1141-1153, 2011.
He B, Santamaria R, Xu W, Cols M, Chen K, Puga I, Shan M, Xiong H, Bussel J B, Chiu A, Puel A, Reichenbach J, Marodi L, Doffinger R, Vasconcelos J, Issekutz A, Krause J, Davies G, Li X, Grimbacher B, Plebani A, Meffre E, Picard C, Cunningham-Rundles C, Casanova J-L, Cerutti A. The transmembrane activator TACI triggers immunoglobulin class switching by activating B cells through the adaptor MyD88. Nature Immunology 11: 836-845, 2010.
Chen K, Cerutti A. Vaccination strategies to promote mucosal antibody responses. Immunity 33:479-491, 2010.
Chen K, Xu W, Wilson M, He B, Miller NW, Bengten E, Edholm E-S, Santini PA, Rath P, Chiu A, Cattalini M, Litzman J, Bussel J, Huang B, Meini A, Riesbeck K, Cunningham-Rundles C, Plebani A, Cerutti A (2009). Immunoglobulin D enhances immune surveillance by activating antimicrobial, pro-inflammatory and B-cell stimulating programs in basophils. Nature Immunology 10:889-898.
Xu W, Santini PA, Sullivan JS, He B, Shan M, Ball SC, Dyer WB, Ketas TJ, Chadburn A, Cohen-Gould L, Knowles DM, Chiu A, Sanders RW, Chen K, Cerutti A. HIV-1 evades virus-specific IgG2 and IgA responses by targeting systemic and intestinal B cells via long-range intercellular conduits. Nature Immunology 10:1008-1017, 2009 (cover story).
Other Information