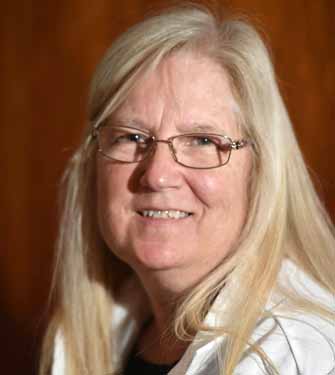 Susan Land
Associate Professor and Director, Applied Genomics Technology Center
313-577-9605
Academic Rank
Associate Professor, Research (full time)
Courses taught
Director.  Fluidigm Corporation, Single Cell Biology Seminar, The CS Mott Center for Human Growth and Development.
CB 7990  - Instructor.  Karmanos Cancer Institute, Research Technologies in Cancer Biology.
BIO – 1510 - Instructor.  Department of Biology, Basic Life Mechanisms Lecture.
BIO 1510: Genomics technologies tour for students with Professor Abigail J. Fusaro, PhD.
Lecturer.  Mary Grove College, Biology II-Unity and Diversity of Life.
Instructor.  Plymouth-Canton Community Schools, East Middle School Science Olympiad Team. 
BME 5995 - Instructor. Biomedical Engineering, Modern Methods in Cell and Tissue Engineering.
BIO 5150/7150:  Tour of genomics technologies - Lecturer.  Department of Biology, Genomics.
Bio 6020:  Tour of genomics technologies - Lecturer.  Department of Biology, Methods of Analyses.
Advisor/Mentor.  Ahmed Ibrahim Ahmed, MD; Thesis title:  Transcriptomic Analysis of Cell-Free RNA in the Amniotic Fluid of Patients with Preterm Labor using Next Generation Sequencing.
Lecturer.  Tour of genomics technologies: Reproductive Endocrinology and Infertility Fellowship Recruitment; MD/PhD students; Faculty recruitment; Candidate for Program Leader, Tumor Biology and Microenvironment; Candidate for Molecular Therapeutics Program; New WSU Faculty.
Research
The Applied Genomics Technology Center (AGTC) is a state-of-the-art facility encompassing a wide range of genomic technologies and the expertise and track record to work with research scientists and physicians. Services include DNA isolation, DNA sequencing, next generation sequencing, genotyping, RNA isolation, and expression analysis. The facility has both low throughput and high throughput technologies to accommodate investigators' needs, e.g. expression analysis options include: Applied Biosystems TagMan assays, Illumina BeadArrays, Affymetrix GeneChips, and digital gene expression on the Illumina Genome Analyzer IIx.
Publications
Van Dyke, AL, Cote ML, Wenzlaff AS, Land S, Schwartz, AG Cytokine SNPs: Comparison of allele frequencies by race and implications for future studies. Cytokine 46(2):236-244, 2009. PMID: 19356949
Cote ML, Yoo W, Wenzlaff AS, Prysak GM, Santer SK, Claeys GB, Van Dyke AL, Land SJ, Schwartz AG. Tobacco and estrogen metabolic polymorphisms and risk of non-small cell lung cancer in women. Carcinogenesis 30(4):626-635, 2009. PMID: 19174490
Schwartz AG, Wenzlaff AS, Bock CH, Ruterbusch JJ, Chen W, Cote ML, Artis A, Van Dyke AL, Land S, Harris CC, Pine S, Spitz M, Amos CI, Levin AM, McKeigue P. Admixture Mapping of Lung Cancer in 1,812 African Americans. Carcinogenesis. 32(3):312-317 (2011) PMID: 21115650
Powell IJ, Dyson G, Land S, Ruterbusch J, Bock CH, Lenk S, Herawi M, Everson R, Giroux CN, Schwartz AG, Bollig-Fischer A. Genes associated with prostate cancer are differentially expressed in african american and European american men. Cancer EpidemiolBiomarkersPrev. 2013 May;22(5):891-7. Epub 2013 Mar 20. PMID: 23515145
Spitz MR, Amos CI, Land S, Wu X, Dong Q, Wenzlaff AS, Schwartz AG. Role of selected genetic variants in lung cancer risk in African Americans. J Thorac Oncol. 2013 Apr;8(4):391-7. PMID: 23454887
Other Information
 Applied Genomics Technology Center